If you're going to be completely honest, you don't blog just for fun. You blog so you can make money. That means you need to use your blog to get leads. Let's look at how you can turn your blog into a
lead generating machine
.
Give Away Lots of Down loadable Content
Down loadable content is an excellent way to generate leads. Create this type of content at least twice a month. Whenever people click the button to download the content, they will be prompted to input their email addresses. Each time you get a new email address, you will get a new lead.
You can create different types of down loadable content and segment the lists to represent the content types. That way, you can create a list of targeted leads, which will make it easier to convert those leads into paying customers or new members for your down line. Just be sure to create a different autoresponder series for each segment or this won't work properly.
Use Exit Pop Ups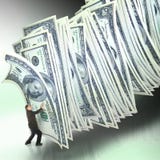 When people go onto your site, they should see a free offer that they can receive in exchange for providing you with their email addresses. Some people will look at the offer and leave. You can capture some of those people by creating a second chance offer. It should be different from the initial offer. People will see the offer in the form of a pop up when they leave. If they choose to get the offer, they will input their email addresses.
Some people are worried they will annoy people with exit pop ups but the truth is that people will either be interested in the offer or they probably won't be coming back to the site anyway. Because of that, it makes sense to use the exit pop up. It will help you get a lot of new leads.
Use All the Blog's Real Estate
Don't make the mistake of only using your blog posts to get leads. You should use all of the real estate on your blog. Use your headers, footers, and sidebars to drum up some leads. You can include calls-to-action, information on free content, and more to get people to sign up for your list.
Your blog is a powerful tool when it comes to capturing leads. Follow these tips so you can get the most out of your blog. Once you have a lot of leads at your disposal, it will be easier to beef up your down line for your MLM business.
Six Year Cancer Survivor - Everyday is Important!